Dress your windows with custom made curtains
Designer curtains and drapes
Made to measure window dressings, enjoy the view
Control light
Privacy - day and night
Excellent room darkening
Excellent insulation
Fabrics
Enormous range of inspiring fabrics, colours and designs available for all curtains and drapes.
Applications
Residential
Living and dining rooms
Bedrooms
Home theatres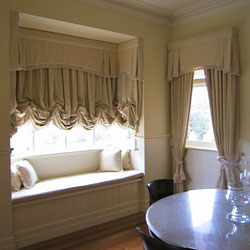 Commercial
Hotels foyers/entry dining/lounge
Motel rooms
Serviced apartments
Nursing homes and aged care facilities
Motorise for effortless use
More and more houses and workspaces are being built with motorisation in mind. It makes sense to integrate window furnishings into your home or building automation system. To maximise your heating and cooling savings and to ensure your living and working environment is setup just the way you like it, at any given moment, automatically.